The course was created by renowned course design architect Seiichi Inoue
and hosted many a fierce battle.
Designed with Mackenzie bent golf green, the course is kept in best conditions
throughout the year providing golfers with a caddy for assistance.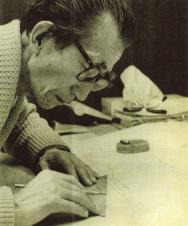 Seiichi Inoue (1908〜1981)
One of the most famous golf course design architects of Japan. Inoue decided to become a golf course design architect after his encounter with C. H. Alison, who came to Japan to create several golf courses, and he has designed many excellent courses since.
Facilities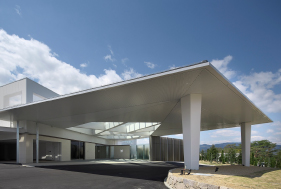 Club House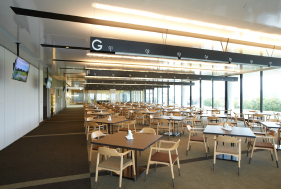 Restaurant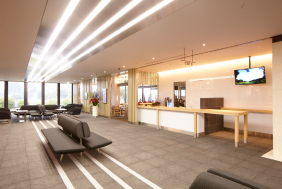 Cafe Counter
Powder Room for Ladies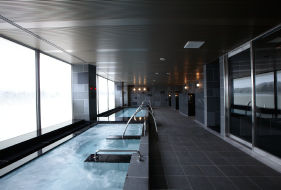 Bathroom
Accommodation

Lake Biwa Otsu Prince Hotel
Situated on the Lake Biwa shore, the Lake Biwa Otsu Prince Hotel boasts 38 floors and is home to Oumi Convention Hall, one of the largest convention halls in Japan. Plus, each of the hotel's 520 guest rooms offers spectacular year-round views of Lake Biwa.
Map & Direction
12, Setahashimoto-cho, Otsu-shi, Shiga, 520-2125, Japan
TEL: +81-(0)77-544-1111 FAX:+81-(0)77-544-0300
3 min. by car from Seta Higashi I.C. / Seta Nishi I.C. / Ishiyama I.C. , 10 min. by car from JR Ishiyama Station
Course Data
18 holes, 7,012 yards, par 72
OUT
| HOLE | 1 | 2 | 3 | 4 | 5 | 6 | 7 | 8 | 9 | OUT |
| --- | --- | --- | --- | --- | --- | --- | --- | --- | --- | --- |
| BLACK | 520 | 189 | 410 | 360 | 400 | 215 | 530 | 430 | 415 | 3,469 |
| BULE | 490 | 170 | 385 | 330 | 370 | 190 | 510 | 400 | 380 | 3,225 |
| FRONT | 473 | 135 | 356 | 319 | 343 | 173 | 475 | 380 | 354 | 3,008 |
| PRINCE | 384 | 122 | 303 | 279 | 275 | 109 | 394 | 323 | 318 | 2,507 |
| PAR | 5 | 3 | 4 | 4 | 4 | 3 | 5 | 4 | 4 | 36 |
| HANDICAP | | | | | | | | | | - |
IN
| HOLE | 10 | 11 | 12 | 13 | 14 | 15 | 16 | 17 | 18 | IN |
| --- | --- | --- | --- | --- | --- | --- | --- | --- | --- | --- |
| BLACK | 450 | 168 | 520 | 375 | 420 | 415 | 180 | 435 | 580 | 3,543 |
| BULE | 430 | 145 | 490 | 350 | 390 | 380 | 150 | 410 | 540 | 3,285 |
| FRONT | 400 | 125 | 472 | 322 | 365 | 355 | 132 | 390 | 522 | 3,083 |
| PRINCE | 333 | 120 | 401 | 270 | 333 | 313 | 119 | 292 | 361 | 2,542 |
| PAR | 4 | 3 | 5 | 4 | 4 | 4 | 3 | 4 | 5 | 36 |
| HANDICAP | | | | | | | | | | - |
Course Layout