Enjoying Amazing Views of the Seto Inland Sea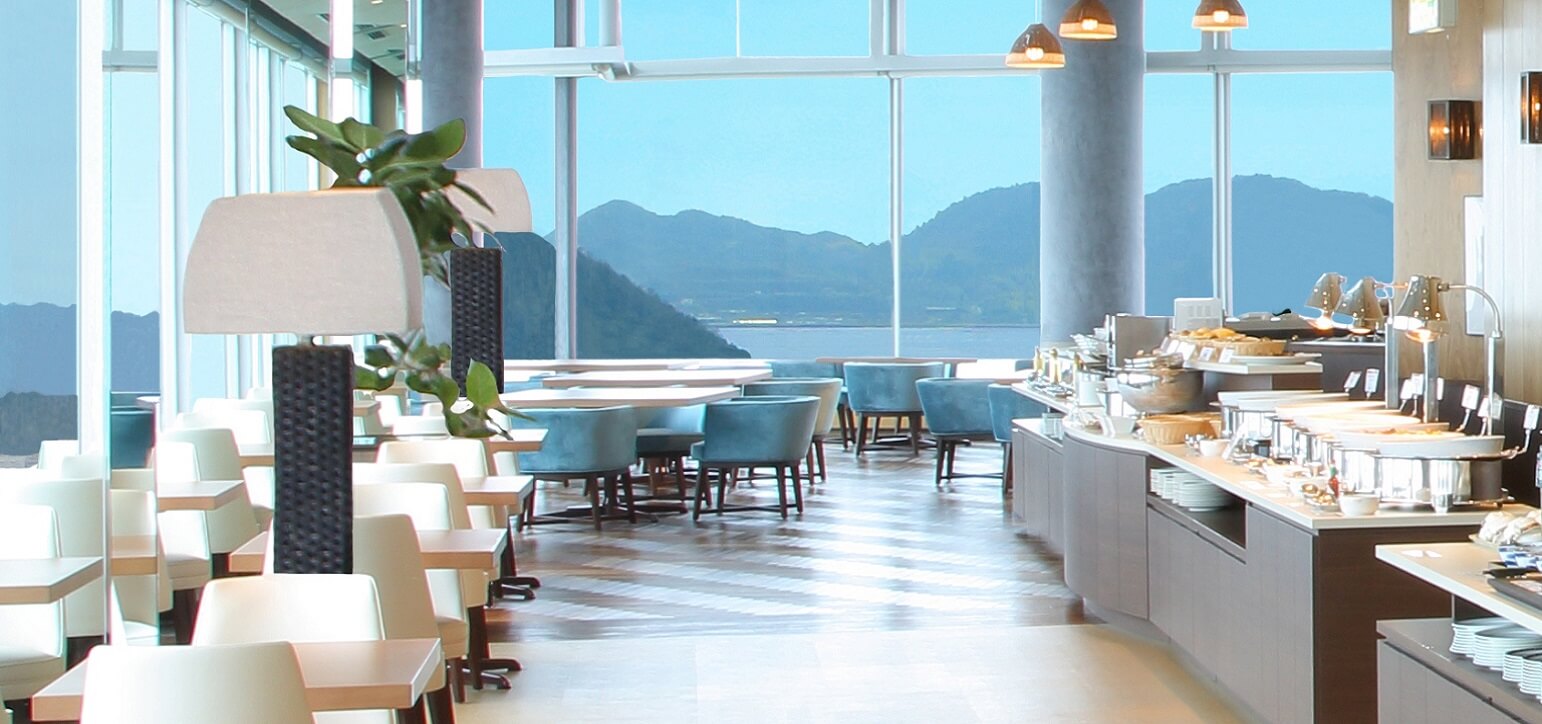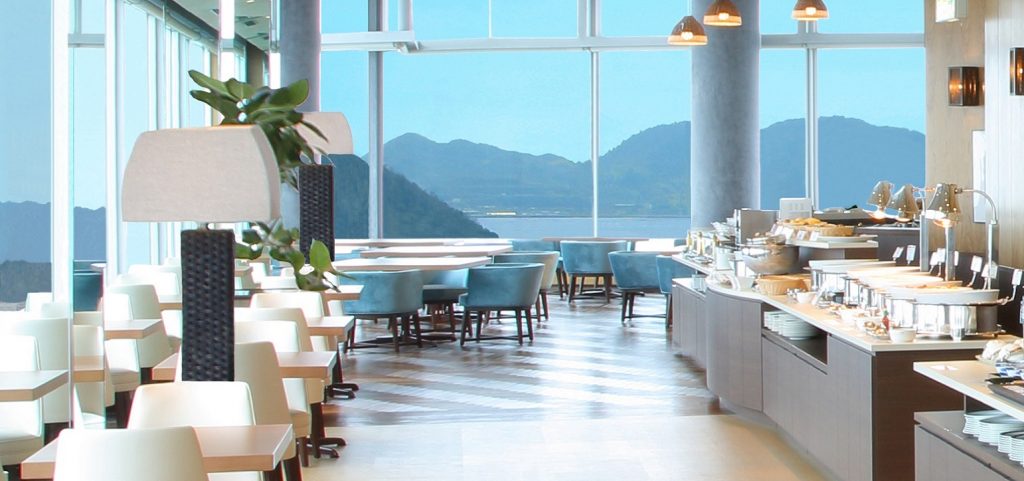 [New Menu] Spring Setouchi Breakfast
Period: March 20th (Fri./holiday) – May 31st (Sun), 2020
Spring Setouchi Breakfast
This buffet features a wide variety of Japanese and Western dishes that showcase the rich seasonal ingredients and local specialties of the Setouchi area.
Please enjoy the items on offer while indulging in magnificent views of the Seto Inland Sea.
[Price]
¥2,500 per adult
¥1,200 per 7-12 years old
¥600 per 4-6 years old
[Unique Attributes of this Buffet]
(1) Enjoy views of the Seto Inland Sea before your eyes
You can enjoy a 360-degree view of the Seto Inland Sea from the top floor of our Hotel which is surrounded by nature.
Start your relaxing day at our restaurant which is situated between the sky and the sea.
(2) Healthy menu featuring Japanese and Western dishes
We offer a healthy menu with dishes, such as "Five-grain Porridge" that incorporate "Akiroman" rice produced in Hiroshima prefecture, "Acai Dressing," and "Chia Seed Dressing."
(3) Live preparation of omelets (Live kitchen)
The chef will use your favorite ingredients and prepare your choice of plain or charcoal bamboo omelets before your eyes, which you can enjoy freshly made.
(4) Carefully selected ingredients
Our menu incorporates carefully selected ingredients, such as "LEMOSCO" and "Kelp with Herring Roe" which have been certified by Hiroshima City as "The Hiroshima Brand," and products that have been registered in the "Hiroshima Support Registration Scheme."
[The Hotel's Top Recommendation: "The Setouchi Corner"]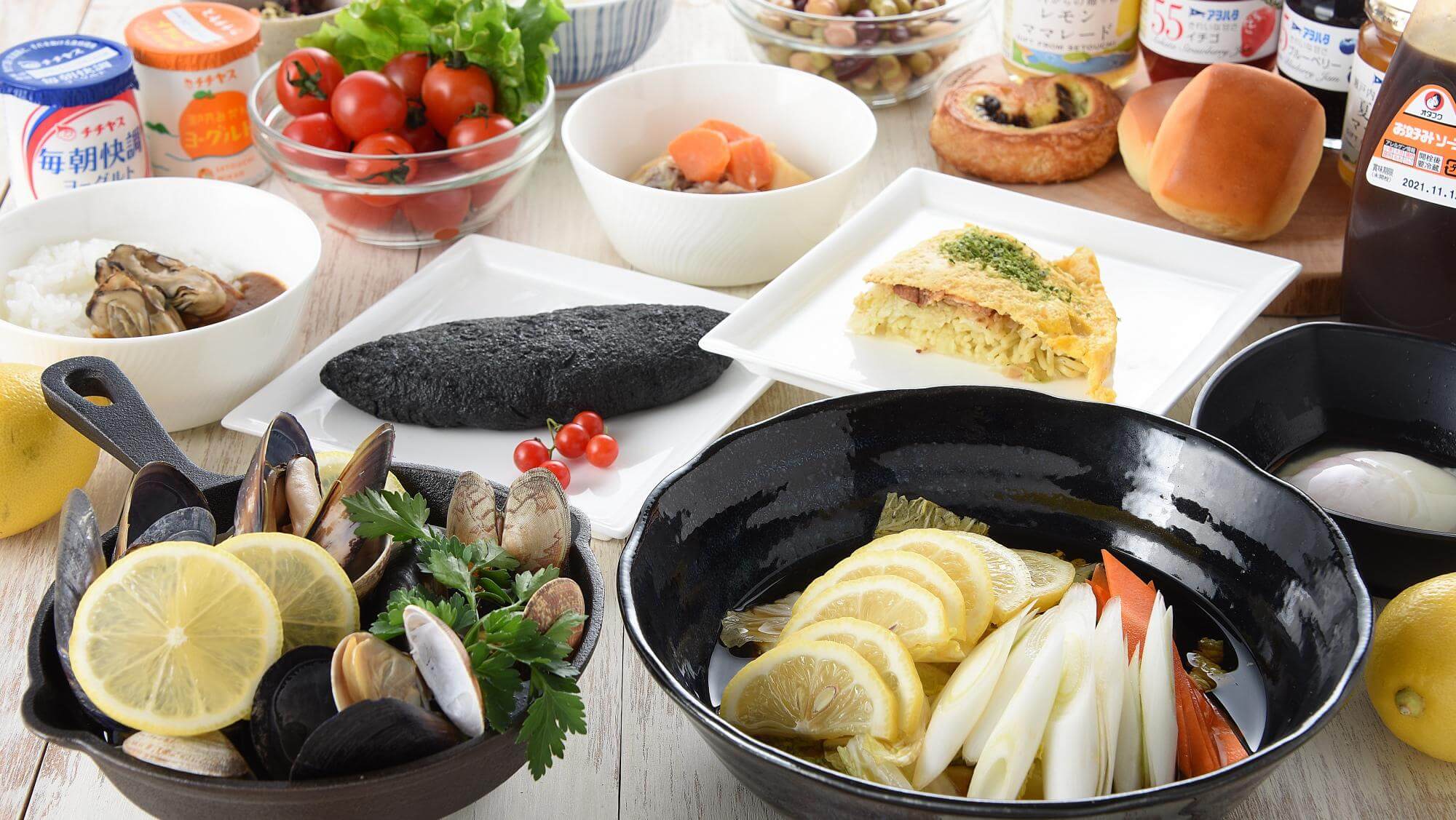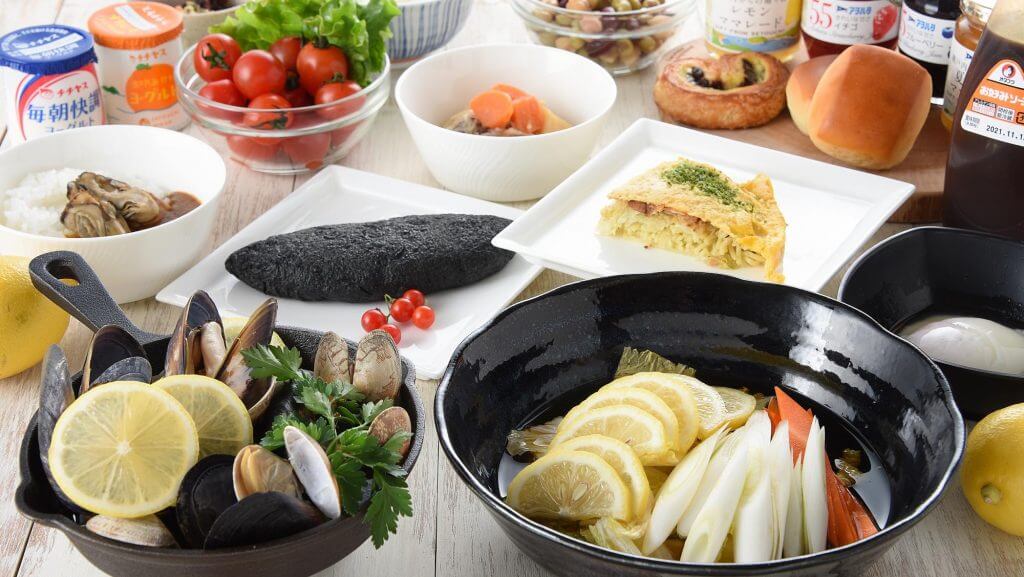 Here you can find Hiroshima's local specialties such as "Okonomiyaki" and "Oyster Curry" which are reminiscent of Hiroshima.
This corner also features products of leading Hiroshima manufacturers such as Otafuku, Chichiyasu and Aohata.
"*" are menu items that rotate on a daily basis.
Hiroshima-style Okonomiyaki / Nikujaga (Potatoes and Meat Simmered in Sweetened Soy Sauce) / Miso Soup (using Hiroshima Masuya Miso)
Soft-boiled Eggs from Hiroshima Prefecture Mukaihara Farm / Akiroman rice from Hiroshima prefecture White Rice
Five-grain Porridge (using Akiroman rice from Hiroshima prefecture) / Steamed Hiroshima Mussels and Clams
Hiroshima Lemon Hotpot / Hiroshima Takehara Bamboo Charcoal Omelet, with 4 Kinds of Toppings
Chichiyasu Yoghurt / Kelp with Herring Roe / Akimurasaki (Purple-colored Hiroshima Green Pickles) / Nakou (Hiroshima Green Pickles)
*Setouchi lemon role *Mayonnaise Cheese Bread with Hiroshima Green & Dried Sardine Fry
[Around 40 Other Dishes Available]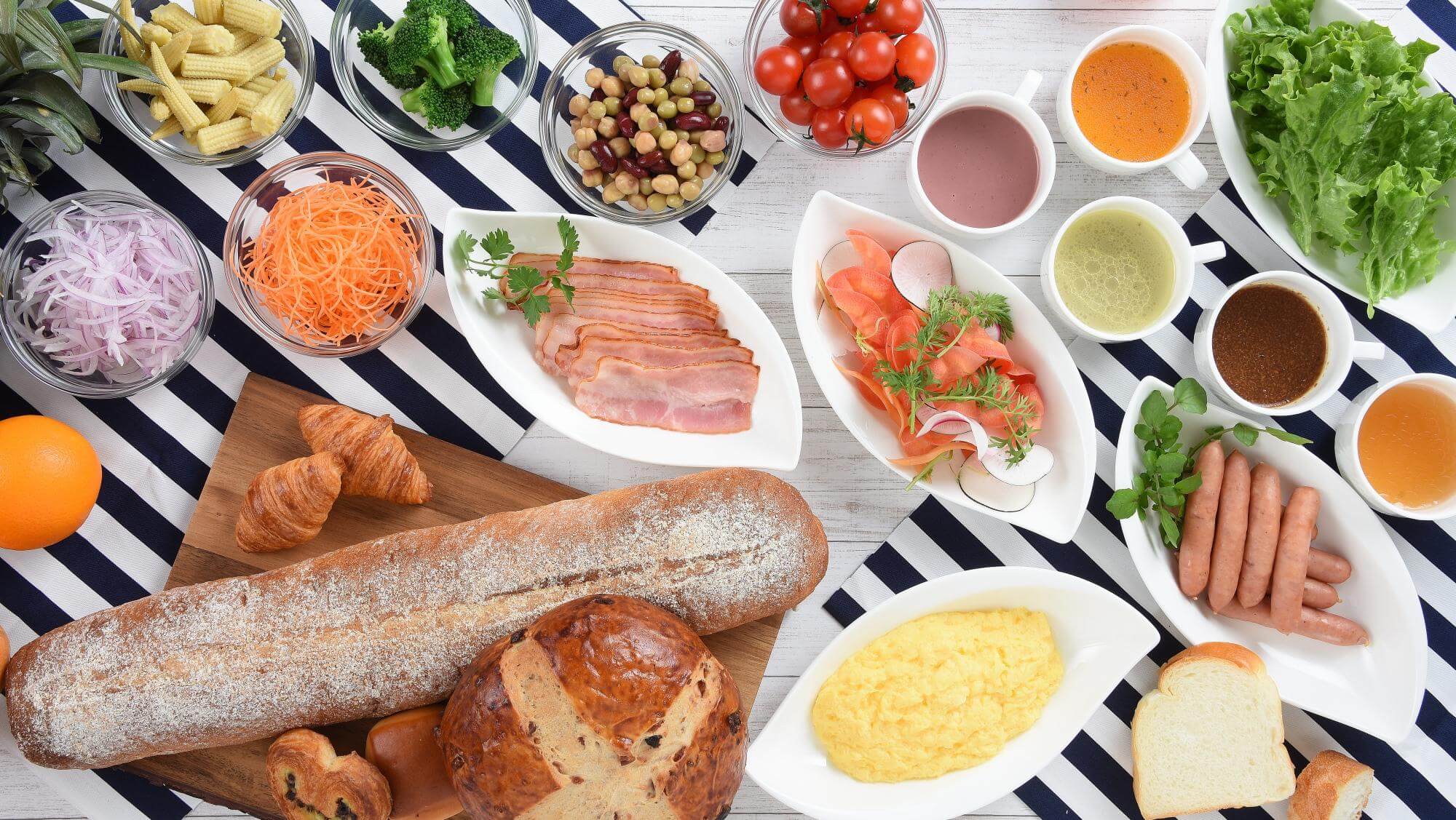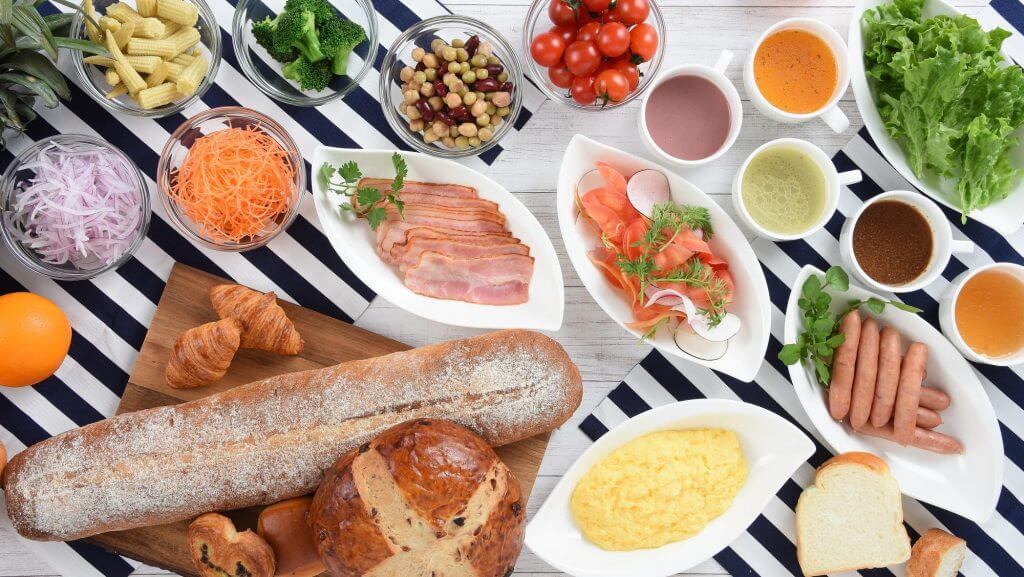 [Western]
White Fish Fritters / Scrambled Eggs / French Toast
Sausage / Bacon / *Steamed Vegetables
*Fried Potatoes *Hash Brown Potatoes
*Corn Soup * Minestrone Soup
Chocolate Flakes / Unpolished Rice Flakes / Fruit Granola
[Japanese & Pickles]
Thick Sweetened Japanese Omelet / Salt-grilled Salmon
*Salt-grilled Mackerel *Amberjack Teriyaki
*Hijiki Brown Sea Vegetable Simmered in Sweetened Soy Sauce *Shredded Dried Daikon Radish Simmered in Sweetened Soy Sauce
Japanese Mustard Spinach and Deep-fried Tofu Simmered in a Light Broth
Chilled Tofu (April – September) Tofu Heated in Kombu Stock and Served with a Dipping Sauce(October to March)
Fukujinzuke Pickles / Grated Daikon Radish / Mustard-greens Pickles
*Pickled Daikon Radish *Pickled Cucumbers
Nakou (Hiroshima Green Pickles) / Natto Fermented-beans / Seasoned Laver/ Umeboshi Salted Ume Plums
[Salad / Fruits]
Salad Bar / Vegetable Mix Chips
Bacon Bits / Salad Dice Cheese / Croutons
[Bread]
English Bread / Croissant / Stone Oven Baguette
*Grovbirkes *Maple Pecan Danish
*Matcha Green-tea Bread *Cereal Bread
*Sweet Potato Bread *Pain au Lait
*Chocolat *Vanilla Chocolate
*Mocha Danish *Ogura Ann Danish
*Spinach Bread *Pumpkin Bread
[Fruits & Dessert]
Grapefruit / Orange/ Pineapple
Kiwi Fruit / Honeyju Melon / Seasonal Fruits
Tropical Fruit Mix / Warabi Mochi
*Pine & Mango Cake *Double Berry Cake
Dressings
Acai Dressing / Chia Seed Dressing
Peruvian Ginseng and Wild Sesame Dressing / Apple Vinegar Dressing
Carrot Dressing / Italian Dressing
[Drinks]
Milk / Orange Juice / Grapefruit Juice
Tea / Hojicha Roasted Green Tea/ Green Tea / Coffee / Espresso / Cappuccino
Hotel guests may dine at the "Restaurant Serenade" with their breakfast vouchers. (Please approach the Front Desk if you wish to dine at the restaurant.)
*All prices are inclusive of consumption tax.
*Please note that the food and menu items might change occasionally based on the market availability.
*Our Hotel uses steam-processed oysters owing to food safety reasons.