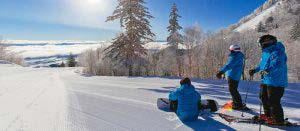 Here's what you have been waiting for!
Our recommended deal includes a ski lift ticket and accommodation together!
Ski is one of the most exciting activity here at Karuizawa Prince Hotel.
We have high rate of clear sky and good conditions, with full range of after-ski activities.
As we are equipped with 195 snow cannons and 8 snow machines, you will always enjoy good conditions.
You've never enjoyed skiing? No worry! Karuizawa has ski schools with private lessons in English.
To learn more about our facilities, visit our website.
[Important Notice for Ski Lift Ticket]
In Prince Snow Resorts, we offer "Kids Free" program which allows free use of the ski lift for children under 12 years old.
When you make reservation for accommodation, children over 7 years old would be charged as adult.
If there are children aged 7-12 in your group, please make your booking with other offer and purchase Ski Lift Ticket at Ski Resort.
For further inquiries
Have a question?
Before making inquiries, please refer to FAQs regarding ski resort. Some of the answers may be found there.
TEL: +81-267-42-1111
Email: karuizawa-rsv@princehotels.co.jp
Note: For inquiries regarding Ski School, please contact the school DIRECTLY.