By regulating your breath and slowly assuming poses, you can expect to maintain your health and feel relaxed.
How about having a special time while taking a look at yourself in the midst of an elegant time by the lake?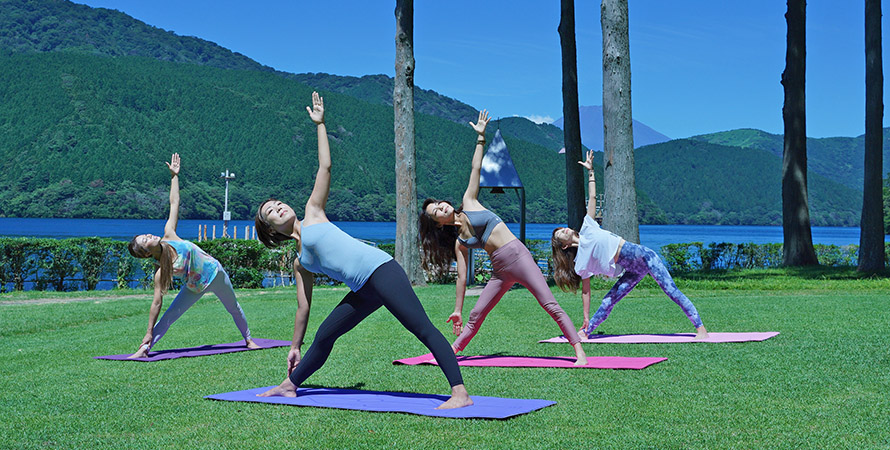 |Date
Please contact our reservation staff for details. ( ryuguden@princehotels.co.jp )
|Lesson location
The Prince Hakone Lake Ashinoko (About 5 mins walk from Ryuguden)
|Time
Qigong yoga 7:00A.M.~7:45A.M.
This is a gentle class that even those experiencing yoga for the first time, those who are bad at exercise, and seniors can enjoy with peace of mind.
Morning yoga 8:00A.M.~8:45A.M.
This is a class with a little more exercise than qigong yoga that those who want to move their body, those who like yoga, and even those who are doing yoga for the first time can participate in with peace of mind.
|Fee
Adult(16 years-old and above) ¥3,000
Child(6-15 years-old) ¥1,500
* Pre-school children cannot participate.
* If you are participating in multiple courses, from the second course onwards, the fee will be ¥1,500 per course.
* If the weather is bad, it will be held in the banquet hall.
* The Hotel will prepare yoga mats.
* If you would like clothes for yoga, please inquire when making your reservation (free).
|Notes
* Reservations are to be made in advance by 6.00 p.m. on the day before the day of the class. Please contact our Hotel's reservations attendant by phone or email.
* Reservations must be for two people or more.
* Please note that you may not be able to make a reservation on your desired date.