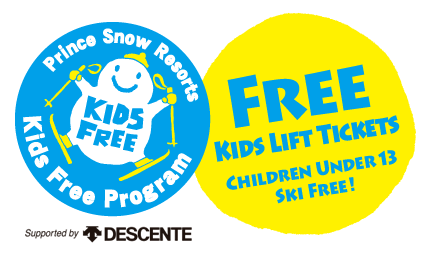 Kids Free Program of Initiatives

Since the 2012-13 season, Prince Hotels has implemented a system of free lifts for children, with the objective of expanding the future number of skiers in Japan.
KIDS FREE PROGRAM

CHILDREN UNDER 13 SKI FREE!!
*Program contents and schedule vary upon location. (each ski resort)
*Some programs require registration. *Some programs are fee-based.
Lift

Children under 13 get a free lift ticket! Try more, improve quickly!!

Ski debut!
Free Lesson

Join and experiece the beginner group lesson!

Snow Strider
Rental

Snow Strider rentals are free for preschool children.

Photo Shoot with Snow Grooming machine

photo shoots with sitting in the passenger seat of the snow cat

Kids One Point
Lesson
(Ski・Snowbord)

Improve your skills quickly with the one-point lesson!
Kids Schussing Competition

Who can be No.1!?

Kids Race

Who is No.1? "Kids Tiki Tiki Race"

Treasure hunting
on snow

Find a ball hidden in the snow mountain and get a prize.

Kids Rental

Ski & Snowboard rentals are free for kids on designated limited days if they come with family!

Fun Event

Try raffle and Play Rock-paper-scissors!
KIDS CHALLENGE

Star Watching

Furano Ropeway "Furano Starry Sky Adventure Tour"

Treasure hunting
on snow

Snow treasure hunt! Look for treasures!

Let's learn skiing
as a family!Parent
& Kid Lesson

Skiing with family is fun!

Family Rental
Service

Travel light and rent all ski gear essentials. If the whole family rents ski equipment as a group, you can enjoy an even bigger benefit! "Family Rental Service!


for SEIBU PRINCE CLUB emi members' family(Under 13 years old)
Grooming
Machine Ride

Enjoy a feeling of being on a roller coaster while you maintain the slopes!

Snowmobile Ride

Go through the snow fields in Tashiro highland by riding a snowmobile!

Snowmobile Back Seat Ride Experience for Kids

"Like a motorcycle on snow!Run through snow fields by riding a snowmobile!"

Patrol Experience
for Kids

Work with professional ski patrol members in the snow resort!

Gondola Operation Work Experience

Experience operating the Gondola lift!