Prince Hotels' Snow Resorts Snow Map

Operated by Prince Hotels & Resorts,Prince Snow Resorts
offer magnificent ski facilities throughout the country.
Enjoy great snow conditions and high-quality trails in exquisite
alpine environments in Hokkaido, Niigata, and Nagano.

Prince Hotels' Snow Resorts
Free lift tickets for kids
- all children under 13 ride ski lifts for free at all Prince Snow Resorts Locations.

FURANO
ー HOKKAIDO ー
LOUNGES

FOOD

SHOPPING

ONSEN

ACTIVITIES

SOH'S BAR

Gaze at the flames in the fireplace while sipping a variety of whiskies and delicious cocktails.

KARAMATSU

Enjoy Japanese food and locally brewed sake at Karamatsu, on the Hotels' top floor.

NINGLE TERRACE

A Shopping area set adjacent to the hotel, offering original goods including love for nature themed craft wortks.

SHISAI NO YU

The water here, rising from a source 1,010 m underground, reportedly has the power to reinvigorate tired bodies.

STARGAZING

Enjoy a great view of Hokkaido's star-filled skies from the ropeway summit.
Mt.Naeba / NAEBA
ー NIIGATA ー
ONSEN

LOUNGES

KIDS' SKI SCHOOL

ACTIVITIES

EVENTS

HIUCHI NO YU

After skiing, why not warm up and wind down with a luxurious soak in the Hotels' open-air baths.

WINDSOR

Wind down even more and try out some great cocktails at the bar Windsor.

PANDARUMAN

Get your kids up to speed quickly, with instruction from great teachers using effective training equipment.

FAMILY SNOW LAND

Ride through the powdery fields on a "snow boat" pulled by a snowmobile. Fun for all ages.

FIREWORKS

Enjoy seasonal fireworks shows.
Mt.Naeba / KAGURA
ー NIIGATA ー
FOOD

RESTAURANTS

SHOP & RENT

SNOW PARK

ACTIVITIES

DINNER

Enjoy hearty prix-fixe dinners and set courses at "Wada-goya" hut.

SNOWMAN CAFÉ AND RESTAURANT

A new, wide-open venue—opened in 2016—featuring large windows and high ceilings.

KAGURA POWDER STATION

Here you can purchase or rent a wide variety of snow gear and ski equipment.

MITSUMATA "COLLC" PARK

A well-equipped park where Kagura skiers can engage in a variety of enjoyable challenges.

POWDER AREA

Powder skiing, available only to visitors staying at the "Wada-goya" hut.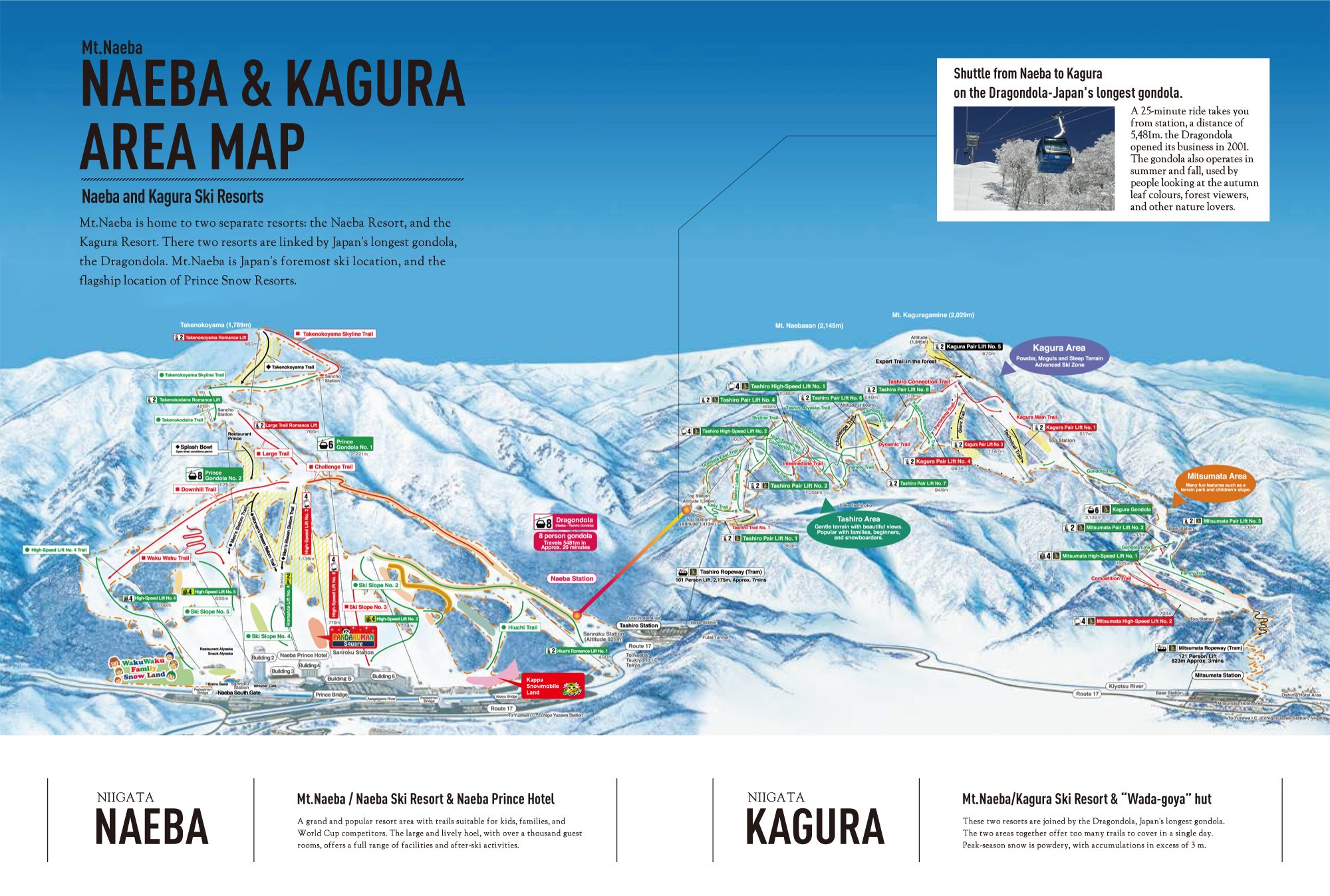 SHIGA KOGEN
ー NAGANO ー
HOTEL

RESTAURANTS

ACTIVITIES

ACTIVITIES

SIGHTSEEING

The South and West Buildings

Each of the three hotel buildings— East, South, and West are all suitable for large groups.

"AFTER" IZAKAYA

Enjoy casual drinking and dining at this new restaurant (opened 2016).

SNOWSHOEING

Enjoy a long walk across the snow, exploring and taking in the sights that you can't see from the trails.

SNOWMOBILE TOUR

Enjoy a safe but adventurous excursion on the latest-model snowmobile.

SNOW MONKEYS

Pay a visit to the 200 Japanese macaques residing in the nearby Japanese Monkey Park.
KARUIZAWA
ー NAGANO ー
SHOPPING

ACCESS

KARUIZAWA PRINCE SHOPPING PLAZA

This large shopping mall (about 200 stores) is located next to the ski area.

TOKYO⇔KARUIZAWA

Take the shinkansen from Tokyo, and arrive in just 60mins.
MANZA ONSEN
ー GUNMA ー
FOOD

LOCATION

DINNER

Choose from a variety of seasonal Japanese dishes.

HOTEL⇔SKI SLOPES

Enjoy a true resort experience, with slopes located outside the hotel.
SHIZUKUISHI
ー IWATE ー
ACTIVITIES

ONSEN

SNOW LAND

A place for kids and their parents to play in the snow on the slopes.

SHIZUKUISHI TAKAKURA ONSEN

Relax in natural spring water while watching the carp swimming in the pond beside the hot spring.
HAKKAISAN
ー NIIGATA ー
MYOKO SUGINOHARA
ー NIIGATA ー