Photo Gallery
Accommodation
There are 2 ski-in ski-out Prince Hotels, the Furano Prince Hotel at the bottom of the Furano Zone and the Shin Furano Prince Hotel at the bottom of the Kitanomine Zone. We offer a wide choice of comfortable rooms, hearty dining and convenient on-site facilities. You will love the feeling of welcoming staff and warm surroundings after a long day on the slopes.

Shin Furano Prince Hotel
407 rooms including Twins, Doubles and Suites. All rooms feature bright cheery interiors with some selected rooms offering splendid views of the slopes.

Furano Prince Hotel
112 rooms including Twins (two styles), Family, Maisonettes and Maisonette Suites. Family rooms are ideal for groups of three or four while Maisonettes combine a first floor living room with second floor bedrooms and sleep up to five.
Address: 18-6 Kitanomine-machi, Furano-shi, Hokkaido, 076-0034 Japan
TEL: 81-(0)167-23-4111

Dining
Shin Furano Prince has 9 restaurants and bars inside the hotel property. Furano Prince hotel also has a restaurant and a lounge. Lots to choose from to match your mood.

Shin Furano Prince Hotel
[Main Dining Room]

This is the hotel's signature restaurant. Menus are seasonal and are carefully planned around Hokkaido produce, and also feature local Furano ingredients. Sophisticated atmosphere gives the memorable nights which would not be forgotten.

[Sushi Restaurant]

A trip to Hokkaido would not be complete without sampling the fresh local seafood offerings. The sushi bar on the top floor of the hotel presents fresh seafood only available in Hokkaido. You can watch the sushi being made freshly in front of you.

Furano Prince Hotel
[Restaurant 'Azelia']

A buffet style restaurant boasting magnificent views from a large three-cornered picture window and a luxurious chandelier.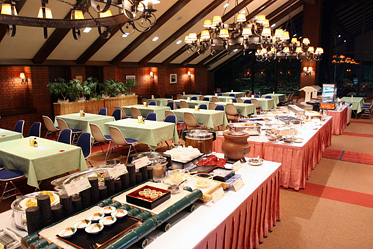 [Chatelaine Cocktail Lounge]

Spend a night savoring the finest spirits while enjoying a breathtaking view from the lounge window.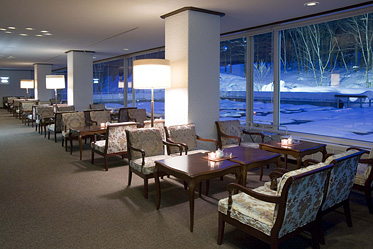 Around the hotels
Furano is bustling with local restaurants, cafes, and bars all with their own flavor and charm. You can check local recommended restaurants at following website.
Hot Springs
There are a number of natural hot springs in the Furano area with easy access via bus and charter taxi tours.

Shin Furano Prince Hotel "Shisai no Yu"
Enjoy the seasonal views while soaking in this natural hot spring that harmonizes with the natural surroundings. There is an indoor bath, open air bath and Finland sauna. The hot spring complex also contains a relaxation lounge and massage service.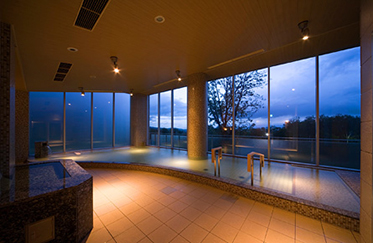 Hot springs around Furano
Experience the art of 'onsen'. Relax your mind while soaking in the therapeutic waters of local hot springs. Across the valley in Daisetsuzan National Park there are high altitude hot springs fed by an active volcano and surrounded by snow scapes.

Shopping

Ningle Terrace Arts and Crafts Village (Shin Furano Prince Hotel)
Nature themed craft souvenirs are displayed in 15 small log cabin shops. These original items can only be purchased at Ningle Terrace.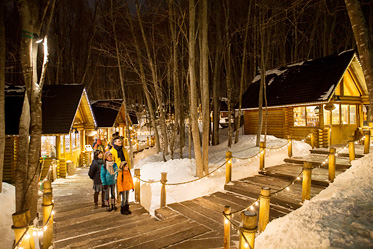 And more…
A stunning art gallery, museums, Furano winery, a cheese factory, lavender farms and Japan's most famous zoo are just some of the places that you can visit during your ski holiday.
Sightseeing

Furano is well known as a famous TV drama location among Japanese. Therefore, there are many sightseeing spots here. There are also beautiful nature areas around the ski resort.
[New Year Festival]
This festival to welcome in the New Year is held next to Shin Furano Prince Hotel. There are food and drink stalls and a fireworks display. A free shuttle bus between Kitanomine Zone and Furano Zone is available. Come and celebrate the New Year and enjoy the fireworks display!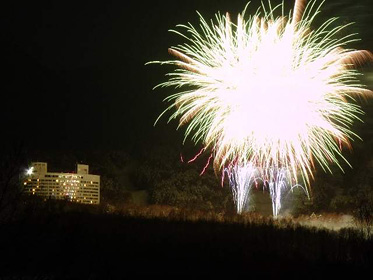 [Furano Snow Festival]
The Ski Festival is one of the biggest events in Furano's winter season. Held at Furano ski area at the base of the Kitanomine Zone, the festival has many events, including a fireworks display. This festival brings warmth and laughter to Hokkaido's cold winter. A fireworks display will be held in the evening with warm drinks, hot food and beer and wine flowing around the festival. Kids are kept entertained with an array of events and games.

[Live cultural performances]
These shows are performed by local volunteers and are the highlight of many visitors ski trip. Japanese flower arrangement, calligraphy, Japanese harp instruments, singing and dancing are just some of the things you will be able to experience with Furano locals. Do not miss this opportunity for a great night out.

[Japanese tea ceremony by high school students]
This Japanese Tea Ceremony is presented by the Furano High School Tea Ceremony Club. It is held in Kitanomine and close to most accommodations. Try true Japanese tradition with your Kimono clad hosts to touch the heart of Japanese culture.