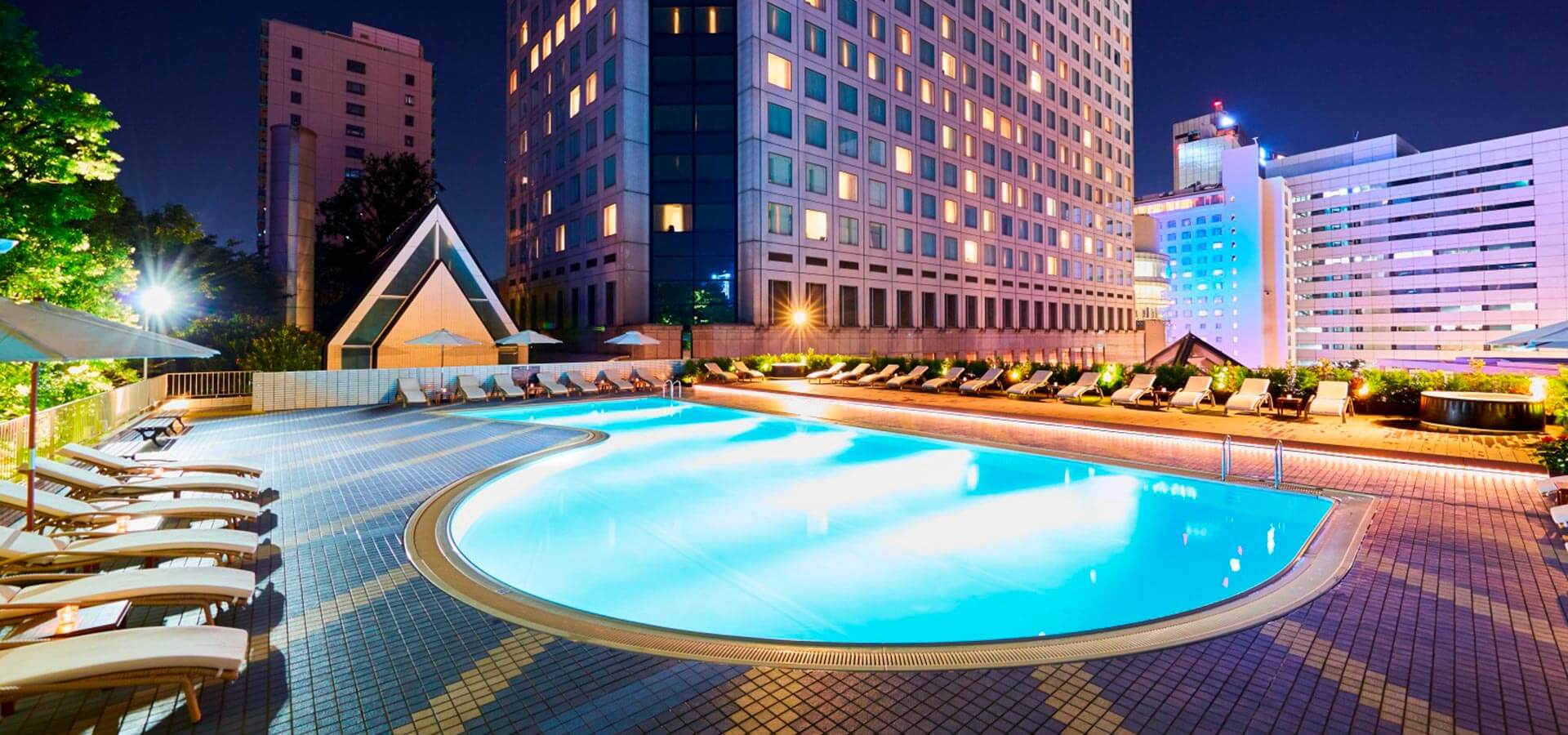 The Shinagawa Prince Hotel has an outdoor pool (open in the summer) and a heated indoor pool on the third floor of the Main Tower. You will also find a Whirlpool Bath. Please enjoy some time in them in our comfortable and relaxing hotel. These facilities are for the use of hotel guests.
Location: Main Tower 3rd floor
Opening Hours
Indoor pool
8:00-11:00, 13:00-16:00, 18:00-21:00
*for hotel guests
read more
1. Indoor pool is closed between 11:00A.M. to 1:00P.M. and 4:00P.M. to 6:00P.M. due to the swimming lessons and maintenance.
2. Swimming caps and towels are provided at free of charge at the reception.(Summer Season: A pay swimsuit and deck chair are available.)
3. Children under 4 years old is free. However, it costs the above-mentioned admission fee to the person of attendance.
4. Gang members and people with tattoos are asked to refrain from using these facilities.
5. Children under 12 years old must be accompanied by an adult.
6. Children under 4 years old are requested to swim in the infant pool located near the outdoor pool only.
7. Due to the weather condition or the pool's over-occupancy, we may ask you to wait to enter the pool.
8. We ask those who are feeling unwell or experiencing diarrhea and vomitting to refrain from entering the pool. We ask that babies in diapers who are not yet potty trained refrain from entering the pool. If you are feeling unwell please refrain from entering the pool.
Due to a bout of norovirus we ask that babies in diapers who are not yet potty trained refrain from entering the pool.
9. Please refrain from using the pool when feeling sick or physical condition is not permissible.
10. For your safety and others, following objects are prohibited in the pool area:
A) Fire equipments (i.e. lighters, fire works, etc.)
B) Glass materials (drinking bottles, soap bottles, etc., eye glasses)
C) Parasols or tents
D) Swimming equipments (i.e. snorkels, tubes, fins, underwater masks, etc.)
E) Alcoholic beverages (beer and liquor)
F) Please do not use sound devices even if water proofed in all pool facilities.
11. Pool staff may ask you leave the pool facility, if your actions deemed to be dangerous, violent or disruptive to other guests.
12. The swimming pool may be closed for maintenance checks without notice.