Designed by C.H. Alison and opened in 1936,it is a distinguished course with long history and traditions.
Putting to good use the rich natural features of the area, the 18 holes of the course flanked by a variety
of deep bunkers have earned considerable acclaim in and outside the country, never failing to fascinate the golfers.
A proper stage for the first-class play.
Hosting the Fuji-Sankei Ladies Classic Tournament in April every year, the course baffles even the top proffessionals of the game. The course must be walked with a caddie, and it is a real pleasure to enjoy the magnificent scenery unfolding itself with every step you take, facing the challenges of this highly difficult course.The course is available only to the hotel guests.
Facilities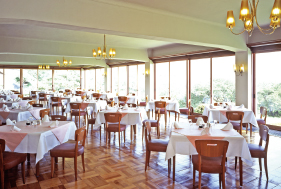 Restaurant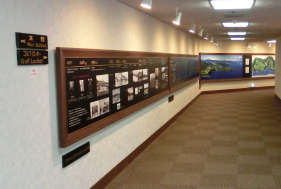 Club House Gallery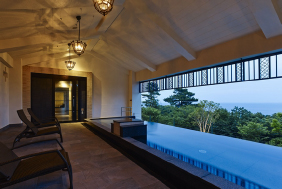 Hotel Hot Spring Bath
Chauffeured Carts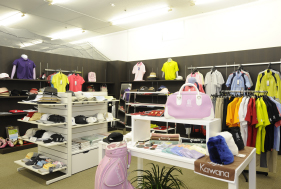 Pro Shop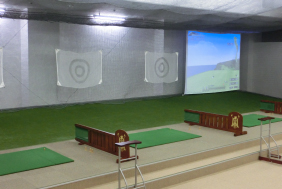 Driving Range (8 stalls)
Accommodation

Kawana Hotel
Classic hotel established in 1928, Kawana Hotel warmly welcomes all golfers and non-golfers with fantastic view of the Pacific and with our beautiful 2 golf courses, which is one of the most well-known golf courses in Japan. Enjoy our two beautiful golf courses, Fuji Course and Oshima Course, and make yourself at home afterwards with local seafood cuisine.
Map & Direction
1459, Kawana,Ito-shi, Shizuoka, 414-0044, Japan
TEL: +81-(0)557-45-1111 FAX:+81-(0)557-45-1114
e-mail:kawana-rsv@princehotels.co.jp
40 min. by car from JR Atami Station , 15 min. by car from JR Ito Station
Course Data
Fuji Course 18 holes, 6,187 yards, par 72
OUT
| HOLE | 1 | 2 | 3 | 4 | 5 | 6 | 7 | 8 | 9 | OUT |
| --- | --- | --- | --- | --- | --- | --- | --- | --- | --- | --- |
| BLUE; | 415 | 411 | 450 | 482 | 181 | 434 | 393 | 150 | 367 | 3,283 |
| WHITE | 409 | 397 | 420 | 468 | 181 | 404 | 330 | 145 | 308 | 3,062 |
| PAR | 4 | 4 | 5 | 5 | 3 | 4 | 4 | 3 | 4 | 36 |
| HANDICAP | | | | | | | | | | - |
IN
| HOLE | 10 | 11 | 12 | 13 | 14 | 15 | 16 | 17 | 18 | IN |
| --- | --- | --- | --- | --- | --- | --- | --- | --- | --- | --- |
| BLUE | 143 | 619 | 404 | 395 | 416 | 480 | 185 | 410 | 366 | 3,418 |
| WHITE | 143 | 568 | 384 | 347 | 366 | 470 | 172 | 388 | 342 | 3,180 |
| PAR | 3 | 5 | 4 | 4 | 4 | 5 | 3 | 4 | 4 | 36 |
| HANDICAP | | | | | | | | | | - |
Course Layout