On elevated grees bautifully designed by Inoue,
the decisive factor in determining who wins and who loses
will be good perception of the distance,so players are advised
to make full use of the Navigation system when facing the challenge of this course.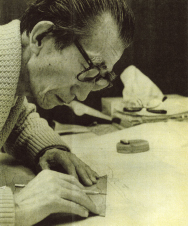 Seiichi Inoue (1908〜1981)
One of the most famous golf course design architects of Japan. Inoue decided to become a golf course design architect after his encounter with C. H. Alison, who came to Japan to create several golf courses, and he has designed many excellent courses since.
Facilities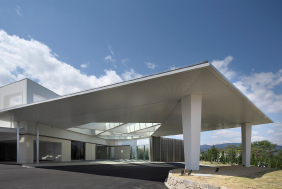 Club House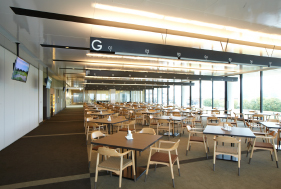 Restaurant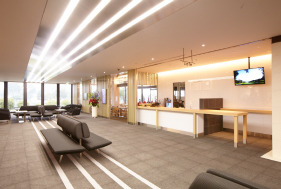 Cafe Counter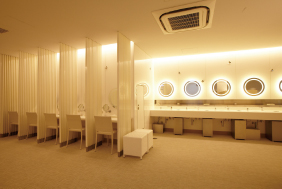 Powder Room for Ladies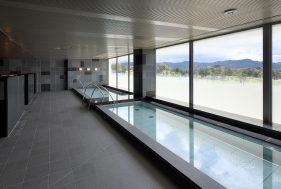 Bathroom
Accommodation

Lake Biwa Otsu Prince Hotel
Situated on the Lake Biwa shore, the Lake Biwa Otsu Prince Hotel boasts 38 floors and is home to Oumi Convention Hall, one of the largest convention halls in Japan. Plus, each of the hotel's 520 guest rooms offers spectacular year-round views of Lake Biwa.
Map & Direction
12, Setahashimoto-cho, Otsu-shi, Shiga, 520-2125, Japan
TEL: +81-(0)77-544-1111 FAX:+81-(0)77-544-0300
3 min. by car from Seta Higashi I.C. / Seta Nishi I.C. / Ishiyama I.C. , 10 min. by car from JR Ishiyama Station
Course Data
18 holes, 6,895 yards, par 72
OUT
HOLE
1
2
3
4
5
6
7
8
9
OUT
BENT
LAWN
GREEN
BLACK
410
430
345
150
445
500
180
510
400
3,370
BULE
385
390
320
140
410
475
160
490
360
3,130
FRONT
355
375
310
140
405
462
154
480
345
3,026
PRINCE
262
349
276
73
331
420
100
421
308
2,540
KOREAN
LAWN
GREEN
BLACK
415
440
355
160
455
505
190
515
405
3,440
BULE
390
405
330
145
425
475
175
500
370
3,215
FRONT
360
390
320
145
420
462
169
490
355
3,111
PRINCE
285
358
286
103
340
425
115
427
312
2,651
PAR
4
4
4
3
4
5
3
5
4
36
HANDICAP
7
3
13
17
1
11
15
5
9
-
IN
HOLE
10
11
12
13
14
15
16
17
18
IN
BENT
LAWN
GREEN
BLACK
405
160
350
400
535
385
190
515
440
3,380
BULE
370
140
335
365
490
360
165
505
405
3,135
FRONT
340
135
330
347
483
351
161
490
384
3,021
PRINCE
266
118
266
321
435
310
100
425
333
2,574
KOREAN
LAWN
GREEN
BLACK
410
170
345
415
550
395
200
525
445
3,455
BULE
375
150
320
385
510
370
180
520
405
3,215
FRONT
345
145
315
367
503
361
176
505
384
3,101
PRINCE
282
123
265
335
449
327
115
435
345
2,676
PAR
4
3
4
4
5
4
3
5
4
36
HANDICAP
8
18
14
2
10
4
16
12
6
-
Course Layout