Countermeasures to Prevent the Spread of Novel Coronavirus (COVID-19)
In order to provide a safer and cleaner environment for a comfortable stay at our hotel, we at Prince Hotels have made a new hygiene and sanitization policy called "Prince Safety Commitment" and implemented it.
Based on this policy, we will do everything in our power and implement strict measures to prevent the spread of infections in order to reassure our guests of their safety when staying at our Hotel.
For more information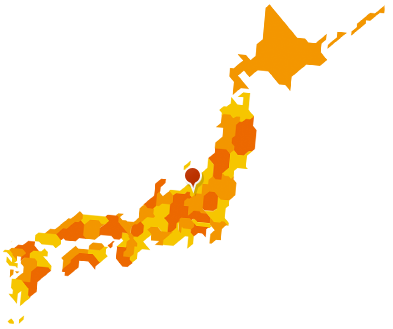 *The information posted is from 2019.
Dragondola taking you on a fulfilling autumn journey
Mt. Naeba is a popular ski resort with its leading number of visitors in all of Japan. Here you can fully enjoy the autumn scenery, utilizing both of Japan's longest gondola "Dragondola" (5,481m long) and Japan's highest cable car "Tashiro Ropeway" (230m high). Both are easily accessible at the summit area as the stations are joined by a promenade with a walking distance of about 20 to 30 minutes. Access between both bottom stations is also very convenient, as they are connected by a shuttle bus. During autumn, when the mountains display a wide array of beautiful colors, it is the best way to fully gaze upon this event with views from above. You might even come across some Japanese monkeys and Japanese serows.
Shuttle from Naeba to Kagura on the Dragondola - Japan's longest gondola
A 25-minute ride takes you from station to station. The Dragondola opened for business in 2001. The gondola also operates in summer and fall, used by people looking at the autumn leaf colours, forest viewers, and other nature lovers.
[Dragondola]

Length: 5,481m
Capacity: 8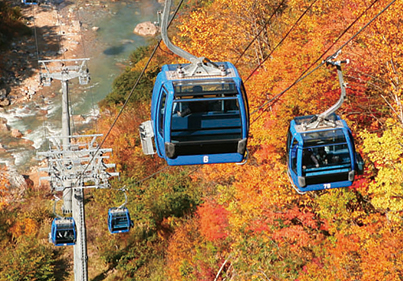 2019 Autumn season Operation
October 5 (Sat) to November 4 (Mon / Substitute holiday)
* The Dragondola will be operated until November 10 (Sun).
Hours of Operation
9:00A.M. – 3:00P.M. (Last downbound 4:00P.M.)
Ticket
●October 5 (Sat) to October 11 (Fri), then November 5 (Tue) to November 10 (Sun)
Adult: ¥2,700
Child (ages 6–12): ¥1,400
Child 5 and under: Free (One child per one adult)
Pets: ¥500 (large dogs are not allowed, please use your own cage when riding.)

●October 12 (Sat) to November 4 (Mon / Substitute holiday)
Adult: ¥3,000
Child (ages 6–12): ¥1,500
Child 5 and under: Free (One child per one adult)
Pets: ¥500 (large dogs are not allowed, please use your own cage when riding.)

*Ticket valid for one of following ways.
1:Dragondola one way + Tashiro Ropeway one way
2:Dragondola round trip
3:Tashiro Ropeway round trip
Accommodation
Naeba Prince Hotel
Book Now
Restaurant

Lunch buffet on Restaurant floor at Building #6 of Naeba Prince Hotel.

Open: 11:00A.M.-2:00P.M. (Last Order)

Restaurant Alm at the Dragondola mountaintop station.

Open: 9:30A.M.-3:00P.M.(Last Order)

Address
[ Dragondola ]
202 Mikuni, Yuzawa-machi, Minami Uonuma-gun, Niigata 949-6292
[ Tashiro Ropeway ]
1066 Mikuni, Yuzawa-machi, Minami Uonuma-gun, Niigata 949-6212
Contact
[ Dragondola ]
MAIL:naeba-ski-info@princehotels.co.jp
[ Tashiro Ropeway ]
MAIL:kagura-ski-info@princehotels.co.jp

- Dragondola -
- Tashiro Ropeway -