Your perspective is very close to the surface of the lake and the view from there cannot be experienced anywhere else. You can enjoy Hakone in a slightly different manner, including Lake Ashi, the Hotel, the plants by the lake, the mountains of Hakone, and the sightseeing boats.
After being lectured by the guide on how to row, you will finally get on a sit-in kayak for two. Glancing sideways at those walking along the Hotel promenade, you will proceed elegantly on the surface of the lake towards Kuzuryu Shrine!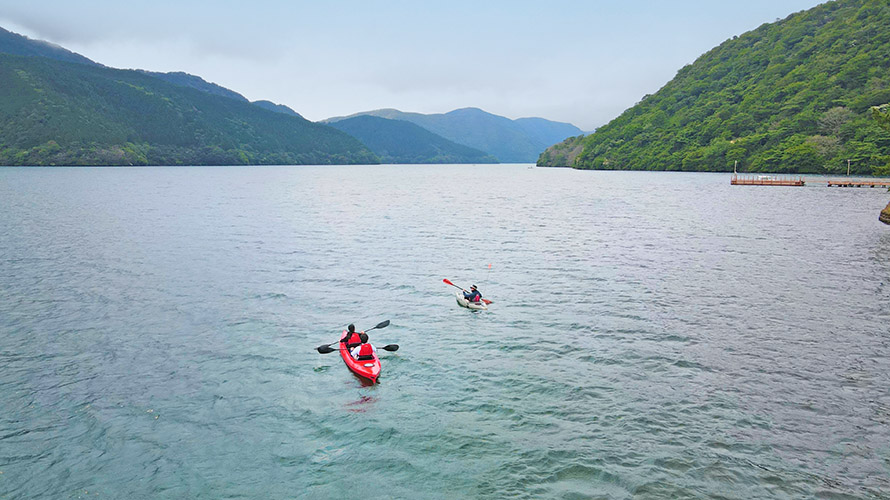 |Time
[1] 10:30A.M.~12:00NOON
[2] 1:00P.M.~ 2:30P.M.
[3] 3:00P.M.~ 4:30P.M.
|Fee
Adult ¥8,800
Child(3-11years-old) ¥5,300
* Please contact our Hotel's reservations attendant at least 3 days before your desired date.( hakone@princehotels.co.jp )
|Things to bring and clothing
-Spring, Summer
Drinks, sandals (or come barefoot), hat, sunscreen & rain gear, and clothes that can be wet until the knees (swimsuit, knee-length pants, and so on)
-Autumn, Winter
Drinks, long boots, gloves and other gear to protect against the cold
* If you are prone to blisters on your hands, please bring gloves.
* Depending on the rowing method, your knees and thighs may get wet. If you are worried, please bring and wear a raincoat.
* Towels and showers for your hands and feet are provided by the Hotel.
|Notes
* Kayaks are for two people. Reservations can be made for up to six people for one session.
* Life jackets must be worn by everyone.
* Sports on the surface of water is inherently dangerous.
Please avoid going off on your own and be sure to follow the instructor's instructions.
* You will be asked to fill out a form acknowledging personal responsibility.
* If the weather is rough, the tour may be suspended (it will be held if there is light rain).
* There will be a cancellation fee of 50% 4-7 days before the session and 100% 3 days before until the day itself. Cancellations due to bad weather on the day itself are be excluded.