Countermeasures to Prevent the Spread of Novel Coronavirus (COVID-19)
In order to provide a safer and cleaner environment for a comfortable stay at our hotel, we at Prince Hotels have made a new hygiene and sanitization policy called "Prince Safety Commitment" and implemented it.
Based on this policy, we will do everything in our power and implement strict measures to prevent the spread of infections in order to reassure our guests of their safety when staying at our Hotel.
For more information
Mt.Naeba / Naeba
Niigata
*The information posted is from 2019.
A comprehensive entertainment resort for both parents and Children!
Naeba is Japan's largest snow resort that is beloved by people even in summer for its amazingly fun experiences. In addition to unique pastimes making use of the ski slopes, you will find open camping, "survival games," wilderness tours, and over thirty types of attractions for you.
The rich natural environment is ensconced in a forest, and you will experience a refreshing climate unique to a place 900m above sea level. A one-of-a-kind experience for the whole family awaits you, this is the place to enjoy a host of summer activities all in one location.
Activities
Naeba Summer Park
Naeba Summer Park offers a wide range of activities for both parents and Children to enjoy. You will find attractions that use dynamic ski slopes (the Mountain Area, Exciting Family Area, Refreshing Pond Area, Adventure Buggy Area, Go-cart Area, and Pandaruman Area), and will be held inside of the hotel, indoor sports, and nature programs around Naeba (Hotel Area), for a total of seven key locations.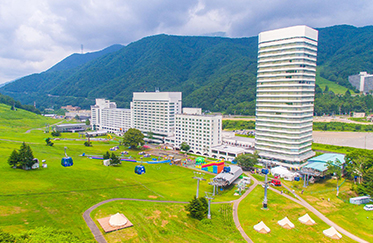 | | |
| --- | --- |
| 2019 Naeba Summer Park Schedule | July 13 (Sat) - 21 (Sun), August 1 (Thu) - September 1 (Sun) |
*Closed between July 22 (Mon) and 31 (Wed)
For more information(Japanese text only)
Mountain Area
Ride on the Prince No. 2 Gondola straight to the breezy summit. Night gondola service operates during limited period. On clear nights, stargazing is recommended.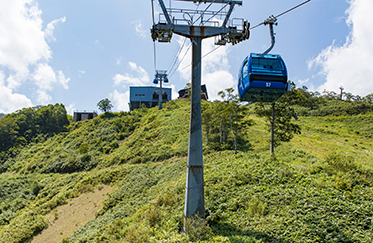 Naeba Sky Terrace
The Naeba Sky Terrace is a relaxing place to unwind adjacent to the Gondola station at the summit! The special seats here allow you to overlook gorgeous view, and let you savor the crisp alpine air.
Exciting Family Area
Lots of fun and interesting activities! To name few, ranging from 50m-long waterslide "Naeba Water Slider!", Wanpaku Plaza, Fun Cycle, Mini-golf Course (Putting course), to Shooting Game.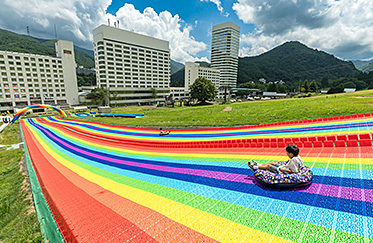 Refreshing Pond Area
Self-catch a fish and salt grilled on the spot at "Fishing Pier" or a little "Canoe Experience", "Standup Paddleboarding", etc. all fun-filled activities awaiting you.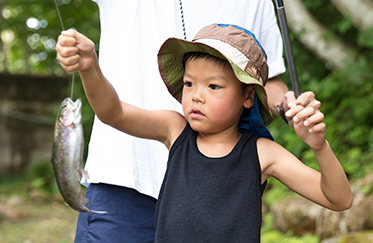 Pandaruman Area
Due to Pandaruman Kids' School ski lessons during winter was so overwhelming, it is opened for learning in summer as well. Others like Tennis, Pandaruman Vehicles, Summer Tubing, etc. can be enjoyed in this area too.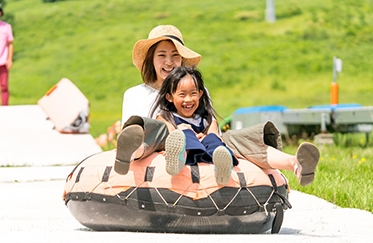 Adventure Buggy Area
How about zipping around the highland in four-wheeler buggy? Or scream! through the exhilarating ride on our newly debut 6-seater brute buggy. Open to everyone, non-drivers too!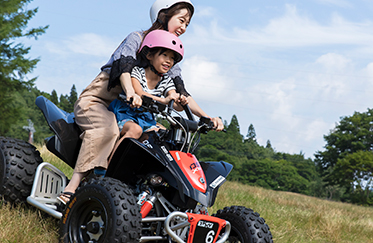 Go-cart Area
Experience cart driving here! Happy zoom-zoom time with family.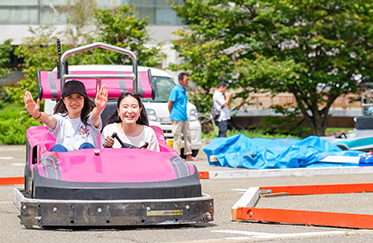 Hotel Area
Naeba Prince Hotel organizes various recreational and easy learning programs for all age group guests. Do come and join our crafts workshops, or play some indoor sports regardless of weather. Plus,our nature program promises a good hands on experience for urban families, parents and children, come together to explore something new about nature. Don't miss it!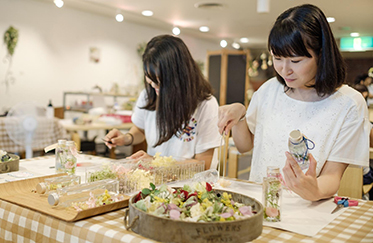 Naeba Independence Boardwalk
Fuji Rock Festival is an outdoor music festival held in Naeba. Since 2002, with the help of local volunteers, we have built the Naeba Independence Boardwalk here to create a barrier-free wooden walkway which wheelchairs can use to enjoy nature. The 1.5km path winds a way through the forest and continues to be expanded today, acting as part of nature preservation efforts around the area.
The boardwalk is opened to the public in summer. The cool and quiet shade of trees covers the path for a relaxing stroll.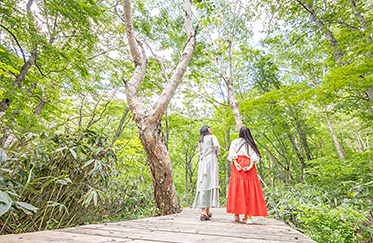 Naeba Plateau Car Camping
Why not take your car for a spot of camping in the refreshing outdoors? Vehicles can come and go up to the campgrounds, so you can use them to transport heavy luggage. This area is also used for Fuji Rock Festival, a hit of summer. It serves as a convenient base of operations for you to pursue various activities at Naeba Summer Park.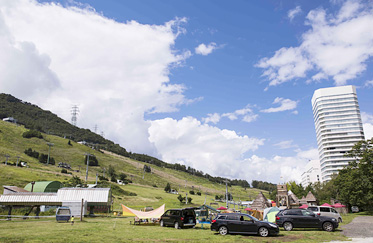 Naeba Survival Game Field
A survival game is a new sport out of Japan in which you square off with teammates against an enemy team in a special ground. Using airsoft and BB guns, the basic rule is that you are out of the game when struck with a pellet. There are generally no referees, with the players themselves left to manage gameplay.
Here in Naeba, the unique terrain of the ski slopes is used to create an undulating outdoor field. The trees and bushes, along with obstacles like cable cars and equioment, serve to complicate the playing field. There are also full accommodation facilities provided, letting you play from morning through night. This is a benefit you'll find only at a resort destination. You can also rent a full set of equipment.
Booking is required through Tel: (03)6435-3339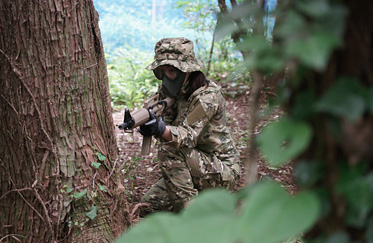 Restaurants
Azalea Restaurant
Great buffet with a wide variety of Eastern/Western food – some 40 types in all! There are also desserts and a kids' corner that the little ones will love.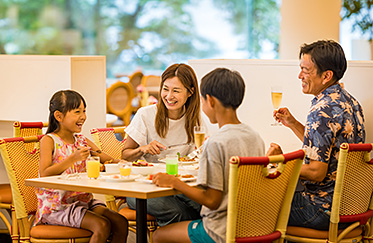 Barbecue Restaurant
After enjoying everything Naeba Summer Park has to offer, grill up some barbecue with family and close friends!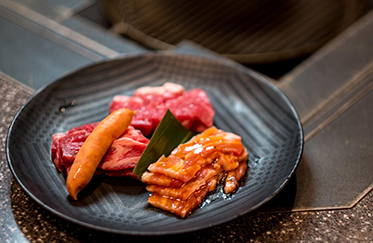 Lobby Lounge: Edelweiss, Crepes
Have a nice snack like our classic chocolate banana and whipped cream crepes or ones topped with frozen fruit. Our sundaes are on a must try list as well.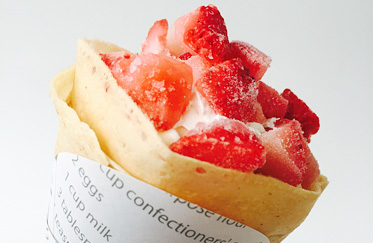 Naeba Vigore
Glance at the alpine scenery while relaxing in the fresh air. Light snacks such as hot dogs and fried chicken are available.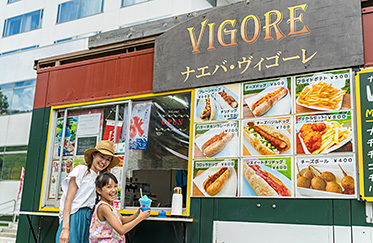 Restaurant Prince
A popular retro-nostalgic restaurant near the Prince No. 2 Gondola Station.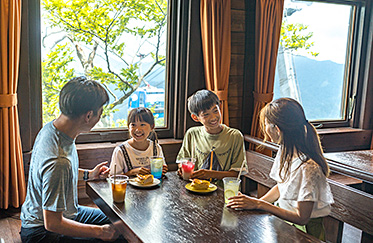 Around the hotels
There are many restaurants in the Naeba town.
Accommodation
Naeba Prince Hotel is conveniently linked to Naeba Summer Park. It offers all types of rooms catering to guest's needs, ranging from cozy lodge feel "Danran ROOM" to simple and reasonable twin rooms.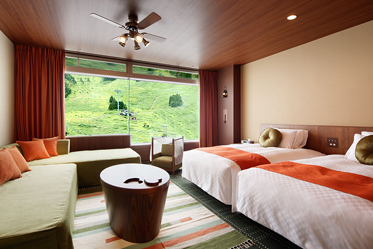 Enjoy Summer Plan (for early booking): 1 night with 2 meals + Leisure Tickets
Good Deals for Early Booking! Room reservation made 60 days in advance prior to check-in, guests are complimented with free "Leisure Tickets" to attractions like "Summer Tubing", "Naeba Water Slider!" and many more.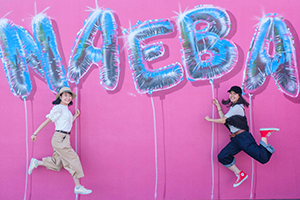 2019 Applicable period
July 13 (Sat) - August 31 (Sat)
*Closed between July 22 (Mon) to July 31 (Wed)
Price
From ¥10,942 per person per night
*For the case of 4 guests in a Family Twin D room of Building No.2
For more information (Japanese text only)
Hot Springs
Naeba Onsen & Sauna
Why not refresh yourself after outdoor activities with a visit to the sauna or Japanese bath? Located Lobby Floor, Building No.4, Naeba Prince Hotel.