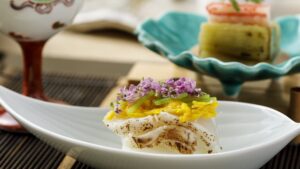 Hashiri, Shun, and Nagori are the definition to understand the seasonal shift in flavour.
Besides well-known Shun, the best time to relish ingredients, we provide the best fresh produce in Hashiri and Shun.
Hashiri heralds the earliest harvests to come with delicate and subtle flavours.
Shun is the prime time to notice, and the ingredients are at their most plentiful with distinctive robust and rich flavours.
Nagori evokes a touch of sorrow of parting best-time in anticipation of the coming season. One can savour, one last time, the ripe.