Kamakura is one of Japan's old capitals, standing alongside Kyoto and Nara, and it is rich with history and tradition.
Take a stroll through the town to feel a true sense of Japan, and discover a number of shrines and temples, atmospheric old homes and warehouses renovated into fashionable cafés and galleries, and more.
The area abounds with natural beauty, being a popular destination for viewing autumn leaves and seasonal flowers, and for going to the seaside at Yuigahama Beach.
Kamakura also has a number of local sweet treats and other delicacies to enjoy.
From Shichirigahama Station
– Free shuttle bus
 Required time: about 5 mins
Shichirigahama Station → Hotel
9:35A.M. / 10:05A.M. / 10:35A.M. / 11:35A.M. / 12:20NOON
2:35P.M. / 3:35P.M. / 4:05P.M. / 4:35P.M. / 5:05P.M. / 5:35P.M.
Hotel → Shichirigahama Station
9:30A.M. / 10:00A.M. / 10:30A.M. / 11:30A.M. / 12:15NOON
2:30P.M. / 3:30P.M. / 4:00P.M. / 4:30P.M. / 5:00P.M. / 5:30P.M.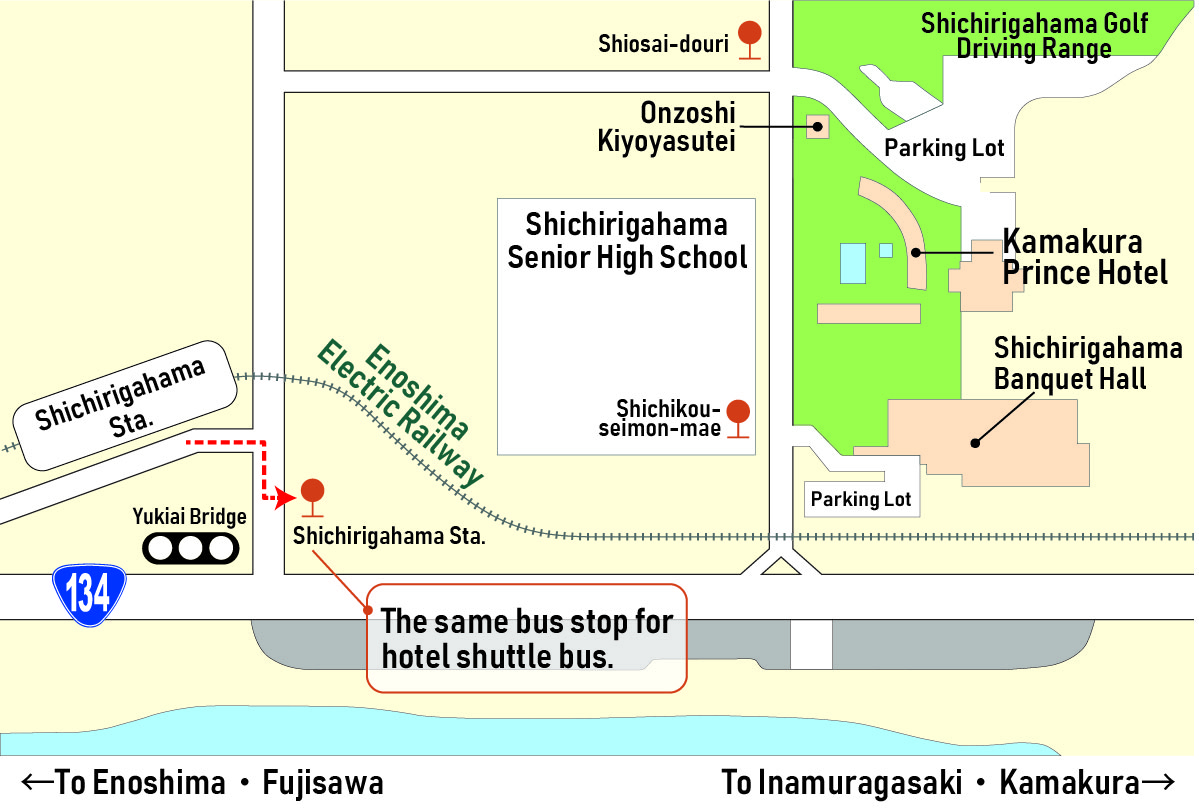 * The bus stop is the same one used by Enoden Bus.
* Please be aware that pick-up service from any location other than the one listed about is not available.
* If you walk from Enoden (Enoshima Electric Railway) Shichirigahama Station along the seaside road, then in approximately 8 mins you will arrive at Shichirigahama Banquet Hall.
 Please enter the banquet hall and take the incline elevator to our hotel. (Incline elevator operating hours: 7:00A.M. – 10:00P.M. )
– Local bus
 Required time: about 3 mins
 Fare: ¥180
【C1】Shichirigahana Circulating bus from "Shichirigahama station bus stop",
getting off at "Shiosai-douri", then walk about 1 minutes.