Photo Gallery
Mountain Map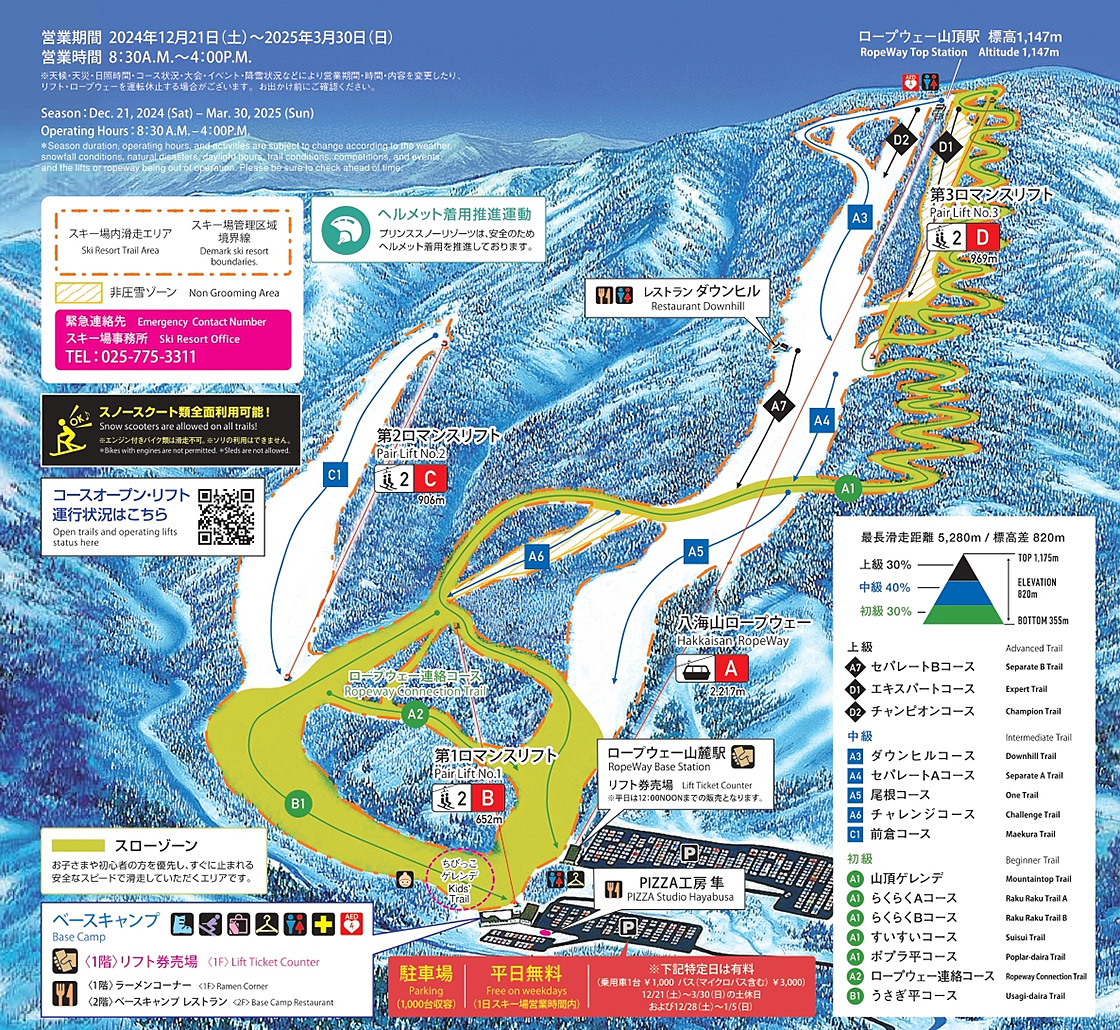 Hakkaisan Trails
Hakkaisan is a hidden powder treasure trove, with one of the steepest and longest powder runs in Japan. A majority of the upper slopes are left ungroomed and can be lapped with quick and easy access via the 81 people tram that whisks visitors 2,217m up the mountain. First Tracks are available on weekends allowing those with advanced bookings access to the tram 10 minutes before regular lift ticket holders. Freestyle skiers and riders who get a kick out of exciting attractions will love the two terrain parks.
* Skiing outside of the area managed by the ski resort is prohibited.
Difficulty of Terrain & Elevation
Difficulty of Terrain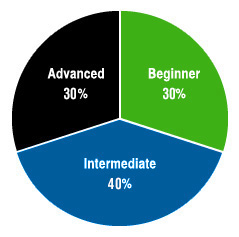 Elevation
| | |
| --- | --- |
| Peak | 1,147m |
| Vertical Descent | 792m |
| Base | 355m |
Trail Information
Trail
Slope Angle
Length
Max
Average

Beginner

A1

Raku Raku Trail
20°
12°
5,280m

Beginner

B1

Usagi-daira Trail
15°
8°
697m

Beginner

A2

Ropeway Connection Trail
9°
6°
227m

Intermediate

A3

Downhill Trail
26°
17°
1,193m

Intermediate

A4

Separate A Trail
29°
25°
360m

Intermediate

A5

One Trail
26°
19°
349m

Intermediate

A6

Challenge Trail
26°
18°
296m

Intermediate

C1

Maekura Trail
29°
16°
894m

Advanced

A7

Separate B Trail
35°
24°
374m

Advanced

D1

Expert Trail
35°
22°
917m

Advanced

D2

Champion Trail
34°
26°
347m
Hakkaisan Lifts
Lift
Capacity
Length
Operation Hours
Hakkaisan Ropeway Tram
81
2,217m
All day: 8:30A.M. - 4:00P.M.
Pair Lift No. 1
2
652m
Pair Lift No. 2
2
906m
Pair Lift No. 3
2
969m
Lift schedule may change without notice due to the weather condition or congestion.
Tickets
Tickets
SEIBU PRINCE CLUB emi members are eligible for a 500 yen discount on lift tickets!
Members receive a 500 yen discount on the following lift tickets.
Click here for more information on SEIBU PRINCE CLUB emi!
Duration
Ticket
Adult
Student / Senior
Validity
Regular
SEIBU
PRINCE
CLUB
emi
Members
Regular
SEIBU
PRINCE
CLUB
emi
Members
Season (Dec. 25- Mar. 21)
1 Day Lift Ticket
¥4,600
¥3,600
¥4,000
¥3,000
From opening to closing
4 Hour Lift Ticket
¥4,000
-
¥3,400
-
4 hours from time of purchase
Lift – Single Ride
¥500
Single ride on a chair lift
Ropeway Tram – Single Ride
¥1,500
One ride on the ropeway tram on day of purchase
Ropeway Tram – Round Trip Ride
¥2,400
One round trip on the ropeway tram on day of purchase
*Free lifts for children 12 yrs. and under
*Student: 13 yrs. - 18 yrs. (ID required)
*Senior: 55 yrs. and older (ID required)
*Operation of lifts is subject to change due to weather condition.
First Tracks
First Tracks tickets are available on the weekend for those who want first crack at the powder runs ahead of the regular crowd. Drink tickets included in First Track can be used in the restaurant.
Lessons and Guides
Lessons
Hakkaisan has a ski school that offers private ski lessons in English (advanced bookings required). There is also a local guiding company that offers on mountain tours of the best powder areas as well as privileged access to the mountain's epic backcountry.
Private Ski & Snowbord Lessons
| Type | 2 Hours | 4 Hours |
| --- | --- | --- |
| Private Ski Lessons for 1 - 3 people | ¥15,000 | ¥22,000 |
| Private Snowboard Lessons for 1 - 2 people | ¥15,000 | ¥22,000 |
| Private Ski Lessons for 4-10 people | ¥19,000 | ¥28,000 |
Hakkaisan Ski School
Advanced bookings required for lessons in English.
Contact details: axis@carrot.ocn.ne.jp
Guide Information
Triforce offers fully guided powder tours in English at Hakkaisan and surrounding mountains. For further information and bookings contact Takumi Nagai at info@triforce.ne.jp or TEL: 81-(0)25-773-3099
Rentals
The latest models of ski and snowboard rental gears are available on the second floor of the Hakkaisan base camp where shuttle buses arrive. Discount equipment rental and lift ticket packages are available on weekdays from Jan. 14 - Mar. 27, 2020.
Hours of Operation: Open weekdays from 8:15 A.M. to 5:00 P.M., and Saturdays and holidays from 7:45 A.M. to 5:00 P.M.
Rentals
1 Day Rental
Adult (junior high school age and older)
Child (up to elementary school age)
Ski or Snowboard Gear (Set)*
¥5,000
¥4,000
Snow Gear & Wear (Set)***
¥8,500
¥7,000
Single items
Ski or Snowboard only
¥3,000
¥2,500
Ski or Snowboard Boots
¥3,000
¥2,500
Poles
¥800
¥500
Helmet
¥800
Snow Wear (Set)**
¥4,500
¥3,500
Snowscoot (1 hour)
¥1,500
-
Snowskate (1 hour)
¥1,500
-
Sled
¥500
*Standard Skis, Poles and Boots or Snowboard and Boots
**Jacket and Pants
***Contents of Ski or Snowboard Gear Set and Snow Wear Set
Note: All information is subject to change
Rental Ski Sizes
Skis: 78cm – 180cm
Ski Boots: 15.5cm – 30.5cm
Snowboard: 88cm – 160cm
Snowboard Boots: 15.5cm – 31.5cm
Snow Wear: 90cm – 4L
Activities
[Hakkaisan Ropeway First Track]
Enjoy morning powder snow and a refreshing long cruise.
Restaurants
Restaurants on the ski hill
[Restaurant Downhill]
Why not you spend your break time at the restaurant with a view of the scenery of Minamiuonuma. A7: Located in the area of Separate B Course.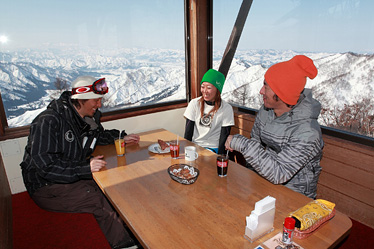 [Ramen Corner]
The homemade chashu pork and handmade gyoza are popular. The set menu items are also recommended. Located on the 1st floor of Base Camp.